SVH3 dual axis slewing drive slewing bearing is available to 3-10 square meter solar tracker system
| | | | |
| --- | --- | --- | --- |
| Model | SVH3 | Place of Origin | Changzhou,China |
| Brand | Coresun Drive | Type | Dual Axis |
| IP Class | IP65 | Output Torque | 446N.m |
| Tilting Moment Torque | 1100N.m | Holding Torque | 2000N.m |
| Mounting Bolts | M10 | Output Speed | 1rpm |
| Gear Ratio | 62:1 | Efficiency | 40% |
Coresun Drive Equipment Changzhou Co., Ltd. Slewing drives function with standard worm technology, in which the worm on the horizontal shaft acts as the driver for the gear. The rotation of the horizontal screw turns a gear about an axis perpendicular to the screw axis. This combination reduces the speed of the driven member and also multiplies its torque; increasing it proportionally as the speed decreases. The speed ratio of shafts depends upon the relation of the number of threads on the worm to the number of teeth in the worm wheel or gear.

The slewing drive is a new type of slewing product, usually called slewing ring, which is usually composed of worm, slewing ring, housing, motor and other components. Since the core components are slewing bearings, they can simultaneously withstand axial forces, radial forces, and overturning moments. Compared with traditional rotary products, the new slewing drive features easy installation, easy maintenance and a greater degree of installation space.
Slewing drive are widely used in PV,CPV,STP solar tracking systems and construction applications including truck cranes, manlifts, turntables, port machinery, modular vehicles, small wind power systems and satellite communications.

Product Advantage:
Slew drives are ready-to-mount modules which are capable of transmitting forces and high torques. Coresun Drive slew drives consist of a ball bearing and a worm screw enclosed by a housing structure.
The enclosed housing guarantees a sustainable, low-maintenance operation without loss of lubrication, as well as protection against environmental influences.
1-3m Dia.TVRO dish dual axis slewing drive slewing gear
Higher tracking precision
IP class 65
Temperature range: -30ºC-60ºC

High Transmission Efficiency
High impact resistance
SVH3 dual axis slewing drive slewing bearing is available to 3-10 square meter solar tracker system.
For 4-6pcs solar panels tracking design
For 1-2.5 Dia. satellite receiver and solar dish system

Why Choose Us:
Solar heliostat tracking system is a mechanical and electronic control unit system which optimizes the use of sunlight to improve photoelectric conversion efficiency in the process of photothermal and photovoltaic power generation. It mainly includes photovoltaic applications and photothermal applications.

1. Our manufacturing standard is according to machinery standard JB/T2300-2011, we also has been found the efficient Quality Management Systems(QMS) of ISO 9001:2015 and GB/T19001-2008.
2. We devote ourselves to the R &D of customized slewing bearing with high precision,special purpose and requirements.
3. With abundant raw materials and high production efficiency, the company can supply products to customers as quickly as possible and shorten the time for customers to wait for products.
4. Our internal quality control includes first inspection, mutual inspection, in-process quality control and sampling inspection to ensure product quality. The company has complete testing equipment and advanced testing method.
5. Strong after-sales service team, timely solve customer problems, to provide customers with a variety of services.

6. Delivery Time: 7 days after

7. Warranty Time: 5 years

8. ISO and CE certificate for quality guarantee
Dual Axis SVH3 Slewing Drive Production Photo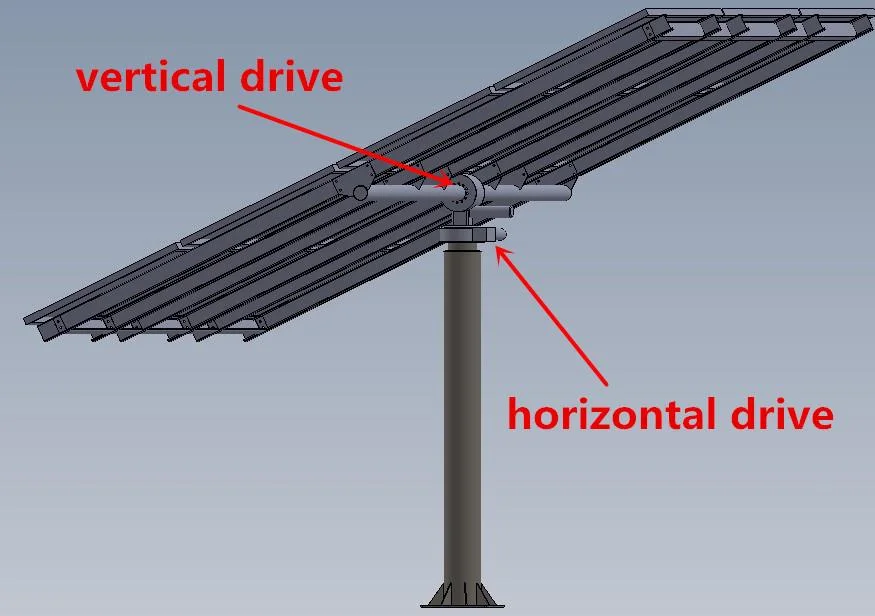 Coresun Drive processes the Slewing Drive Motor metallographic testing to ensure the quality of raw material and follows the standard inspection specification.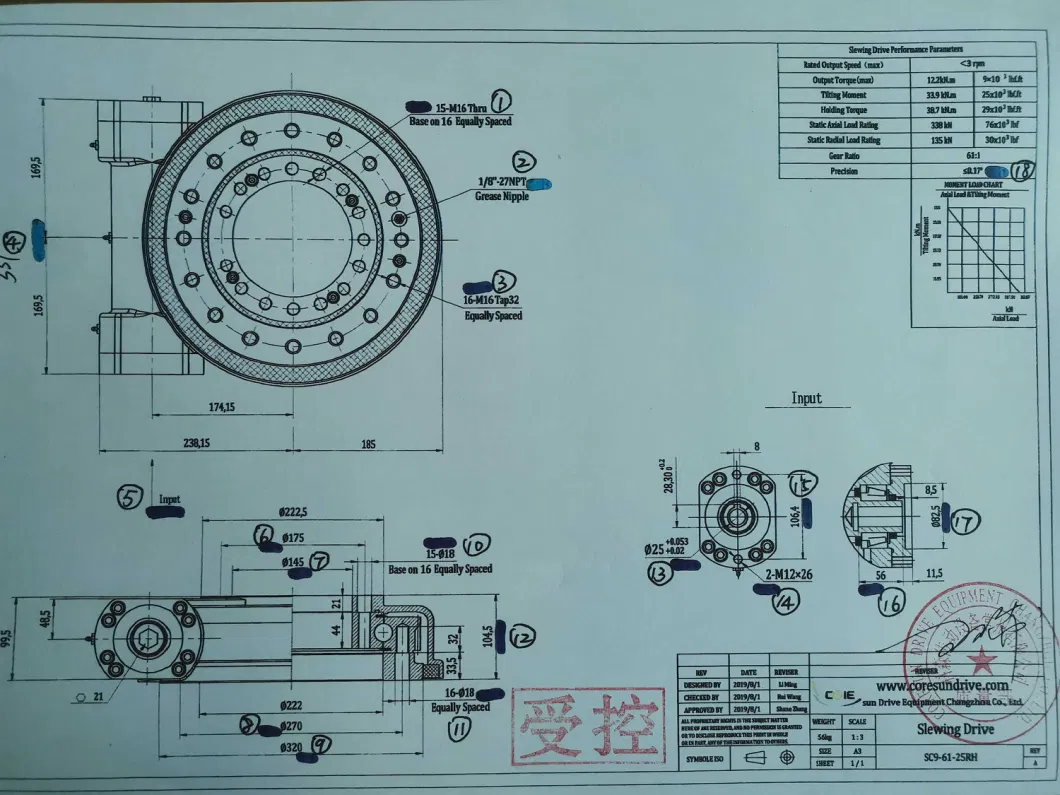 Certification of CE, ISO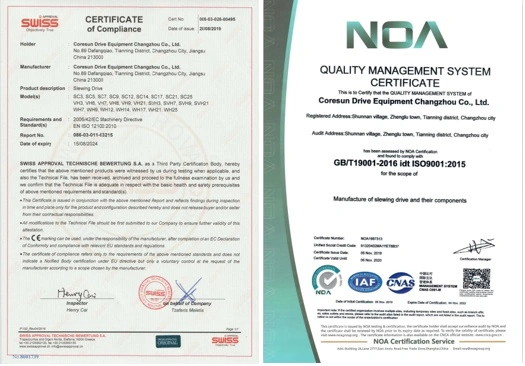 CONTACT US
It is sincerely looking forward to cooperating with you for and providing you the best quality product & service with all of our heart!