Production description
LYHY bearings is a professional manufacture of ball bearing, roller bearing, slewing ring bearing in china
Detailed specifications for the model: XA 301600N
1. Type: Single row Crossed roller slewing bearing
2. Bore diameter: 1470mm
3. Outside diameter: 1803.5mm
4. Height: 92mm
5. Material: 42CrMo, 50Mn
6. Precision: P0. P6. P5.
7. Cage/retainer: Nylon or aluminum
8. Gear type: External gear
9. N. W. 460kgs
Model
Dimension(mm)
Rating load (KN)
N.W.(KG)
Da
di
H
Cr
XA 120235N
318.8
171
40
280
13
XA 180307N
408.4
235
55
450
29
XA 160407N
503.3
335
50
600
33
XSA140414N
503.3
344
56
520
31.4
XA 260475N
598.2
382
65
1060
64
XA 280560N
708
464
87
1245
110
XA 140540N
640.3
471
48
770
39
XSA140544N
640.3
474
56
680
42
XA 160596N
712.3
510
55
880
63
XA 140640N
742.3
571
50
910
50
XSA140644N
742.3
574
56
520
50.1
XA 240685N
830.1
577
68
1380
115
XA 200720N
844.3
630
59
1180
87
XA 140753N
862.3
674
50
1060
65
XSA 140744N
838.1
674
56
930
59
XA 200818N
940.1
728
60
1460
100
XA 280845N
1008
730
87
1830
200
XSA 140844N
950.1
774
56
1050
71
XA 220895N
1038.1
790
68
1860
145
XSA 20 0955N
1096
855
80
2030
154
XSA140944N
1046.1
874
56
1340
75.5
XA 280995N
1158
882
80
2550
210
XA 220978N
1110.1
883
68
2100
140
XA 140969N
1086.1
890
60
1400
105
XSA 141094N
1198.1
924
56
1360
91
XSA 20 1055N
1198
955
80
2250
171
XA 341117N
1293.6
995
100
3600
310
XSA 20 1155N
1298.6
1055
80
2460
186
XA 301213N
1389.6
1095
92
3800
300
XSA 20 1255N
1398.6
1155
80
2687
201
XA 261320N
1485.6
1210
85
3800
285
XSA 20 1355N
1498.6
1255
80
2936
218
XA 341455N
1653.6
1317
95
5100
430
XSA 20 1455N
1598.6
1355
80
3060
233
XA 301600N
1803.5
1470
92
4200
460
XA 501790N
2027.5
1621
130
8200
890
XA 401765N
1971.5
1622
110
6100
640
XA 401832N
2041.5
1687
110
6400
680
XA 221821N
2013.1
1714
100
3900
500
XA 401985N
2229.1
1826
110
6900
810
XA 402130N
2381.4
1965
118
7600
980
XA 342253N
2457.6
2112
118
5600
850
XA 282304N
2493.4
2190
110
5350
680
XA 402355N
2605.1
2190
118
7000
1070
XA 402638N
2861.1
2492
118
7300
1050
XA 452815N
3096.8
2640
127
9500
1490
XA 452935N
3216.8
2760
127
10000
1560
XA 503005N
3272.8
2820
138
12100
1720
XA 453170N
3436.8
2995
127
10600
1610
XA 503365N
3632.8
3180
138
13100
1920
XA 503585N
3866.8
3400
138
14500
2130
XA 503765N
4046.8
3580
138
15200
2240
XA 504175N
4436.8
3970
138
16800
2430
Advantages:
1. Best quality and price
2. Small order accepted
3. ISO certified company
4. Variorum models
5. Extensive stock available
6. OEM accepted
Company Introduction
LYHY bearings are a professional manufacturer in slewing ring bearings since 1993. We can also design and make other standard and non-standard ball bearings, roller bearings and precision bearings as per customer's different technical requirements.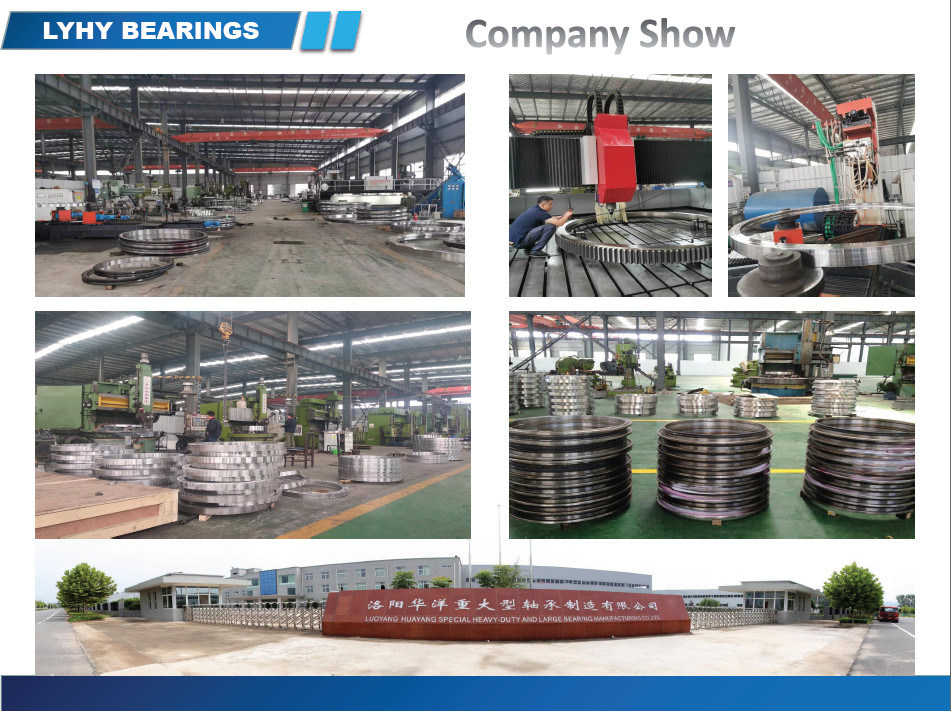 Slewing bearing introduction

Slewing bearing is also called slewing ring, slewing ring bearing, turntable bearing, and rotary bearing.
Slewing ring bearing is a bearing that able to bear axial load, radial load and overturning torque. Under normal circumstances, slewing rings have their own mounting holes, lubricant holes and seal holes, to meet the different needs of the various host working under the various conditions;

On the other hand, slewing bearing itself has characteristics of compact structure, guide rotating convenient, easy to install and maintaining easily.

LYHY slewing ring bearings are usually used for low revolution while shaking and strained with an enormous axial force, moment and in some parts with radial force simultaneously.
Consequently the requirements for loading are stricter than ordinary bearings. If the selection of the slewing ring bearing has been wrong it will cause a great damage. Hence it is necessary to evaluate the exact forces acting on the slewing ring bearing and to select the suitable slewing ring bearings.
Application:


Mine machine, port hoisting machine, port oil transfer equipment, onshore and offshore crane, excavator, concrete machine, paper machine, plastic and rubber machine, weave machine, steel plant, electronic power plant, wind power generator, other construction and industry machines or equipments.

Payment & Shipping Terms: T/T, L/C
Minimum Order Quantity: 1 Set/Sets
Price: FOB Shanghai
Packaging Details:
1. Bearing surface is covered with the anti-rust oil first; And then wrapped with the plastic film;
2. And then packed with Kraft paper and professional belts;
3. At last, with wooden box totally at the outer packing to invoid the rust or the moist;
4. We can depend on the customers demand to be packed;
FAQ:
Q: Are
LYHY BEARINGS
trading company or manufacturer
?
A:
LYHY BEARINGS
is
a professional
manufacturer for slewing bearings, thin section bearings, ball bearings and rolling bearings
Q: How do
LYHY BEARINGS
control quality
of
their
bearing?
A:
LYHY BEARINGS
has established
strict
quality control systems
, a
ll
the
products and services
has
passed ISO9001-2008 Quality Certificate
and third party such as CCS, LR,ABS,BV
Q: What is the
MOQ
?
A:
MOQ is 1pc, pls message us for detailed
information.
Q: How about the
package
for LYHY bearings
?
A:
Standard
Industrial packing in general condition (Plastic tube+
professional plastic belts
+
plywood case
). Accept design package when OEM.
Q: How long is the
production
time
?
A: It take
s
about
7-40
days, depends on the model and quantity.
Q: How about the
shipping
?
A: We can arrange the shipment or you may have
your own
forwarder.
Q: Is
sample
available
?
A: Yes, sample order is acceptable.
Q: Can we use our own LOGO or design on bearings?
A: Yes.
OEM
is acceptable
for
LYHY BEARINGS
. We can design
as per your requirements and use your own LOGO and package design.