Please see details for slewing ring bearing
191.25.2800.990.41.1502
if you need more details, please feel free to contact us for designing and producing
1. Why choose LYHY slewing bearingsWho we are?
We (Luoyang Huayang special heavy-duty and large bearing manufacturing CO., LTD) are a professional
bearing manufacturer
in the world, established in 2000, specializing in slewing bearings, slewing drives
and special bearings, with design, production, sales, marketing and service from OD200mm to 8000mm.
For 18 years experiences, our bearings have flied to more than 50 countries.
Our technical team:
We have 60 employees, with 6 experienced engineers and professional technicists.
All our bearings are designed by CAD-programs, made according to customers' special demands.
Our technical team can also verify safety & reliability depending on the load case and the strength of raceway
as well as gear and bolt connections.
Manufacturing:
Equipped with advanced manufacturing equipments and test instruments, all bearings are of uniform marking
and packing with superior quality, reasonable prices and perfect services.
Quality:
We have been certificated by ISO9001:2008, and we are also aligned to international quality standards
from application consulting and engineering to productions, examinations, documentations and dispatch.
We will prepare additional test reports if customers need.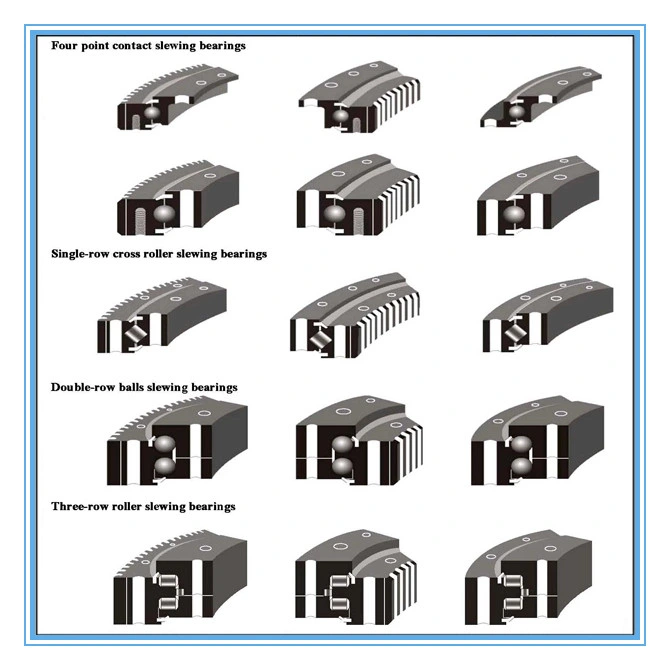 2. Structure of LYHY slewing bearingsMain Types:
Single row ball slewing ring bearings
Double row ball slewing ring bearings
Crossed roller slewing ring bearing
Three row cylindrical roller slewing bearings
BALL & ROLLER combined slewing bearings
Flanged slewing ring bearing
Gear Type:
Slewing bearings with external gear
Slewing bearings with internal gear
Slew bearings without gear
Flange type:
Slewing bearings with external flange and internal gear
Slew rings with internal flange and external gear
Slew bearings with external and internal flange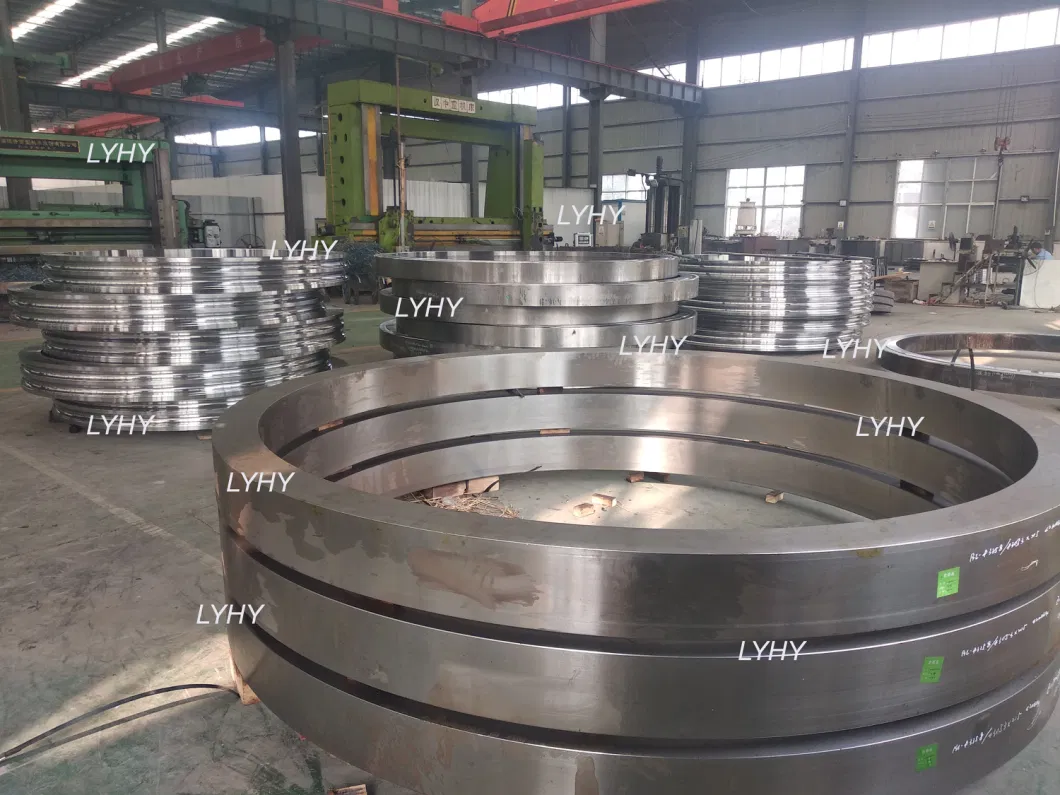 3. About LYHY bearings Advantages:1. introduction:
we are a manufacturer of slewing bearing since 1993, our factory occupies a area of 30000square meters with 4 workshop and 1 office building.
2. Featured products:
slewing bearing and slewing drive
3. Capital:
Current is 1 million RMB, but we are increasing the capital to 10 million RMB
4. Workers:
60
5. Certificate:
ISO9001:2008, 3.1 certificate, CCS certificate
All LYHY slew rings can betested by the 3
rd
party inspection organization if customer requires, such as BV, CCS, SGS, LR, ABS and so on. All swing bearings inspection reports will be supplied to customers, including raw material certificate, heat treatment certificate, UT&PT and so on.
6. Annual Exportation:
8 million USD
7. Warranty Period:
All LYHY slewing ring bearings have a warranty period of 18 months, for some special working condition, warranty period can be lengthened to 3-4 years.
8. Production Time:
All LYHY slewing ring bearings can be usually delivered timely, usual production time is 15-50 days based on different slew bearings diameters, sometimes slew rings will be in stock.
9. Technical Control
All LYHY slewing ring bearings are forged rings with material steel 50Mn or 42CrMo, slewing rings are machined by CNC lathe, slew bearings raceway are quenched via medium-frequency hardening with hardness 55-60HRC, turntable bearings are drilled holes by CNC drilling machine, slew gears are machined by hobbing machine with gear quenched if required, swing bearings then are grinded by grinding machine with higher precision.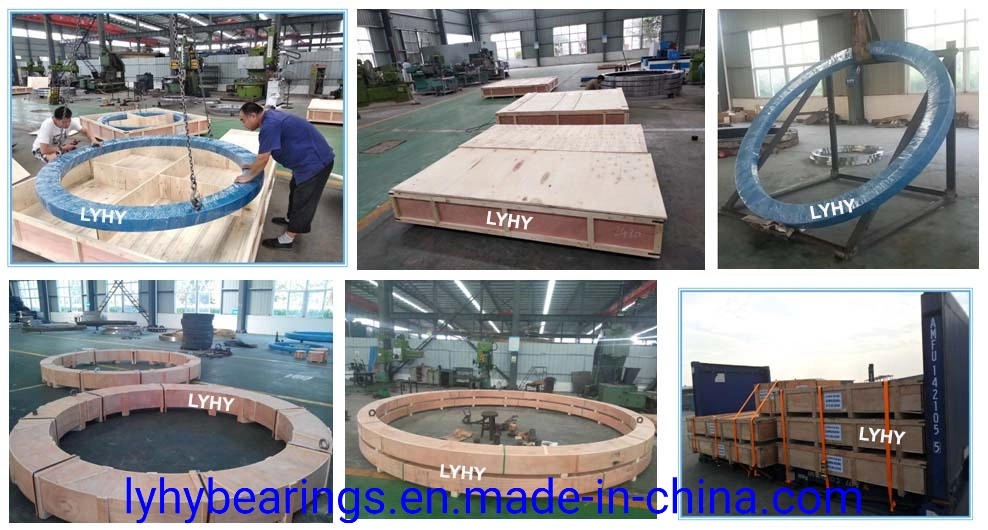 4. LYHY Slewing Bearing Packing 1. Basic Packing
Bearing surface is covered with the anti-rust oil first; and then wrapped with the plastic film;
And then packed with kraft paper and professional belts;
At last, with wooden box totally at the outer packing to invoid the rust or the moist;
We can depend on the customers demand to be packed;
2. LYHY slewing ring bearings can be packed by different ways.
If bearing diameter is less than 2300mm, slewing rings will be usually packed by square plywood case.
If bearing diameter is more than 2300mm, slewing rings can be packed by square plywood case, round plywood case, or steel tripod. Every package way can be totally kept goods safely.
5. LYHY Slewing Bearing Transportation:
Slewing bearings can be offered different delivery terms, such as EXW, FOB, CIF, DDU and so on.
Also, slewing rings can be transported by different transport ways, by express (such as DHL, TNT, UPS, FEDEX and so on), by air, by sea, by truck, by railway and so on.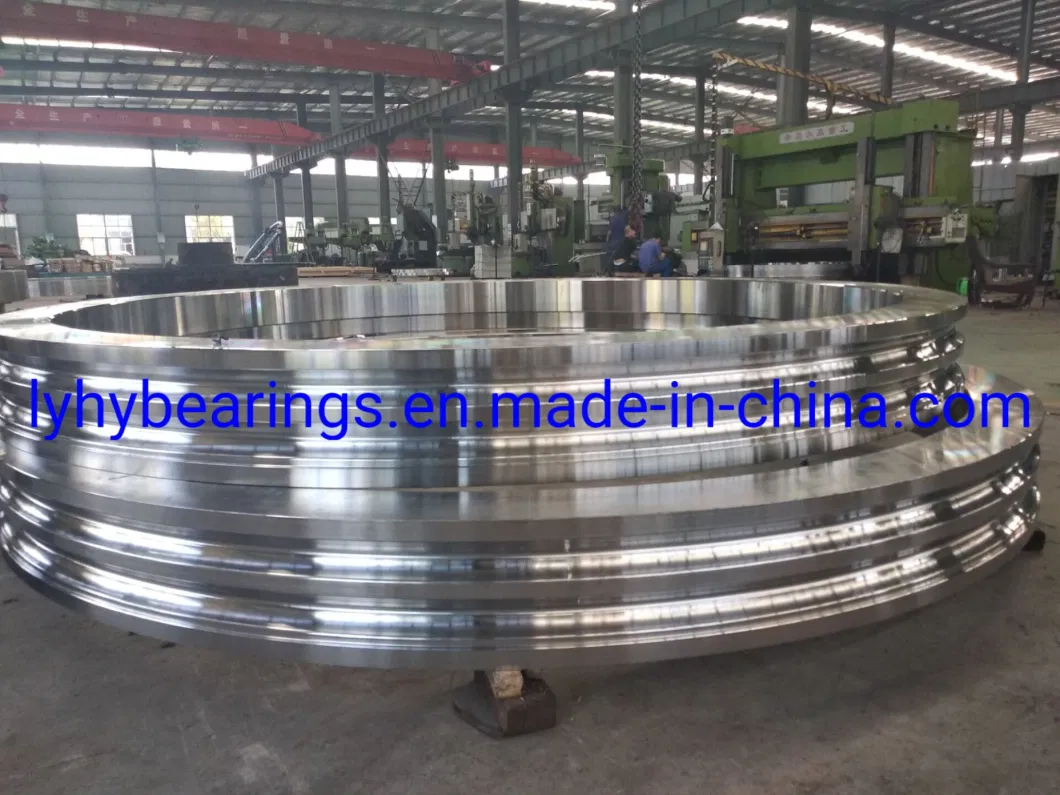 4. Application:
For harbour and shipyard crane, Marine machine, port hoisting machine, port oil transfer equipment, onshore and offshore crane, excavator, concrete machine, paper machine, plastic and rubber machine, weave machine, steel plant, electronic power plant, wind power generator, other construction and industry machines or equipments.
If you need more information about our product, pls feel free to contact us.
We will get back to you ASAP.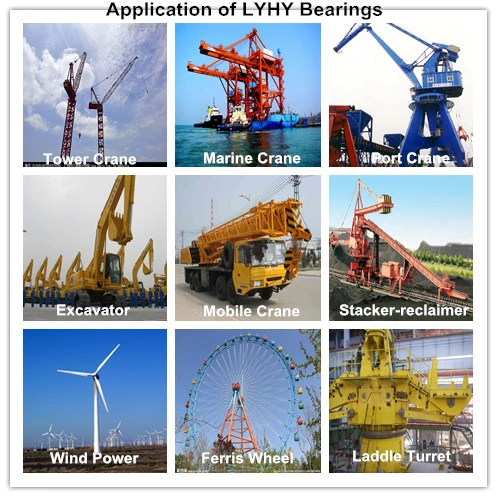 Slewing Ring Bearings with external gear
191.20.1250.990.41.1502
191.20.1400.990.41.1502
191.20.1600.990.41.1502
191.20.1800.990.41.1502
191.20.2000.990.41.1502
191.25.1800.990.41.1502
191.25.2000.990.41.1502
191.25.2240.990.41.1502
191.25.2500.990.41.1502
191.25.2800.990.41.1502
191.32.2240.990.41.1502
191.32.2500.990.41.1502
191.32.2800.990.41.1502
191.32.3150.990.41.1502
191.32.3550.990.41.1502
191.32.4000.990.41.1502
191.40.2800.990.41.1502
191.40.3150.990.41.1502
191.40.3550.990.41.1502
191.40.4000.990.41.1502
191.40.4500.990.41.1502
191.50.3150.990.41.1502
191.50.3550.990.41.1502
191.50.4000.990.41.1502
191.50.4500.990.41.1502
191.50.5000.990.41.1502
191.50.5600.990.41.1502
191.50.6300.990.41.1502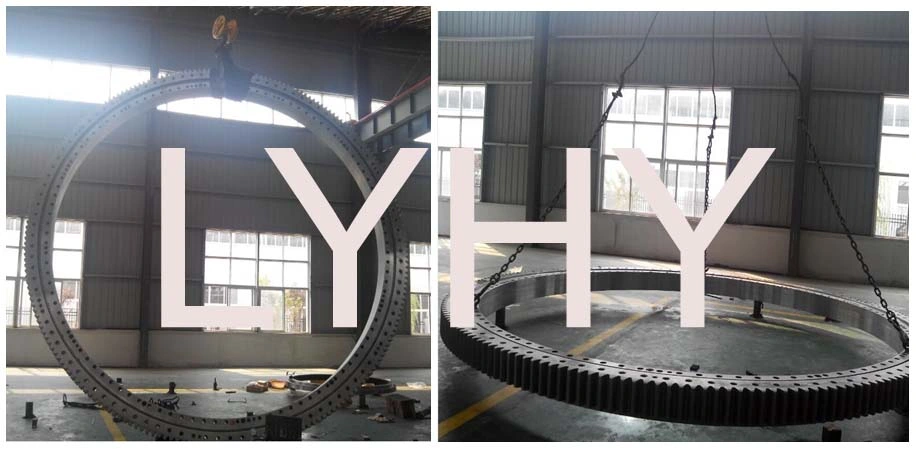 Slewing Ring Bearings with internal gear
192.20.1250.990.41.1502
192.20.1400.990.41.1502
192.20.1600.990.41.1502
192.20.1800.990.41.1502
192.20.2000.990.41.1502
192.25.1800.990.41.1502
192.25.2000.990.41.1502
192.25.2240.990.41.1502
192.25.2500.990.41.1502
192.25.2800.990.41.1502
192.32.2240.990.41.1502
192.32.2500.990.41.1502
192.32.2800.990.41.1502
192.32.3150.990.41.1502
192.32.3550.990.41.1502
192.32.4000.990.41.1502
192.40.2800.990.41.1502
192.40.3150.990.41.1502
192.40.3550.990.41.1502
192.40.4000.990.41.1502
192.40.4500.990.41.1502
192.50.3150.990.41.1502
192.50.3550.990.41.1502
192.50.4000.990.41.1502
192.50.4500.990.41.1502
192.50.5000.990.41.1502
192.50.5600.990.41.1502
192.50.6300. 990.41.1502