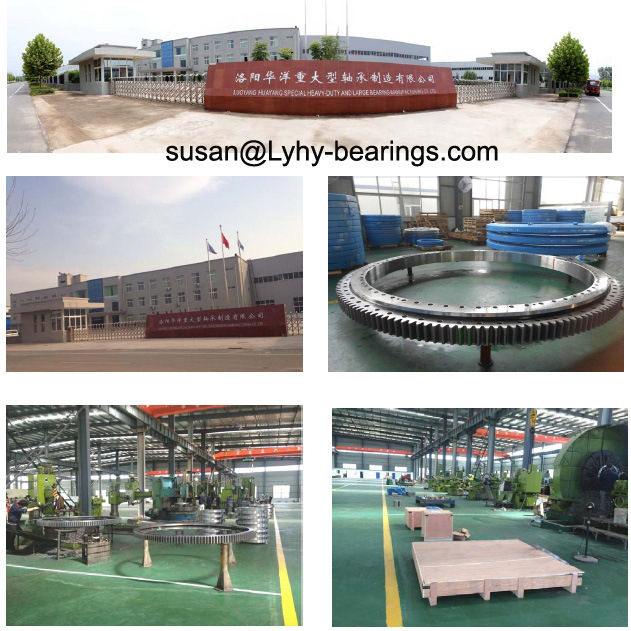 Model: 450LC-7
Brand: Hyundai Excavator
Material: Steel 50Mn, more details just contact us...
1. Introduction of LYHY single row four point contact ball slewing bearing
LYHY is a professional manufacturer in slewing ring bearings since 1993. We can also design and make other standard and non-standard ball bearings, roller bearings and precision bearings as per customer's different technical requirements.
Slewing bearing is also called slewing ring, slewing ring bearing, turntable bearing, swing bearing, slewing gear, slew gear, and rotary bearing.
2. Structure of LYHY slewing bearings
Slewing ring bearings have different types as per different structures:
Single row ball slewing bearings
Double row ball slewing bearings
Crossed roller slewing bearings
Triple row roller slewing bearings
Flange slewing bearings
Crane slewing ring bearing
Excavator slewing ring bearing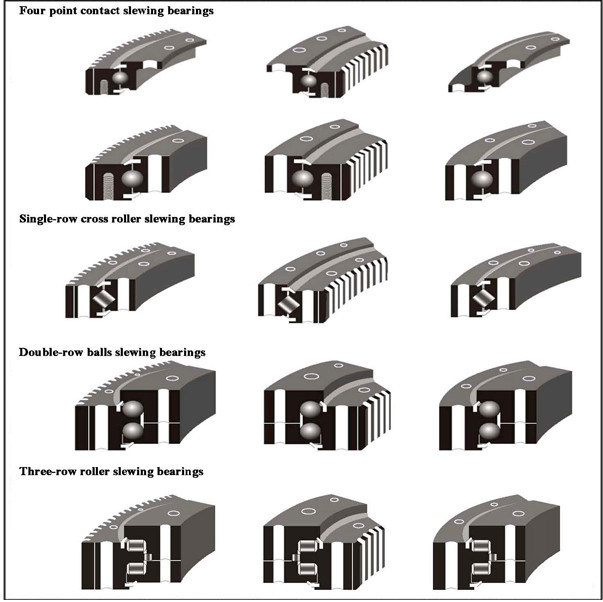 3. Why choose LYHY slewing bearings
A pioneer in slewing bearing field, rich experience, can do design, produce, mounting guide
Small order accepted
SO certified company
Variorum models
7*24hours hotline to help you with your cranes
Strict quality control system to ensure quality for slewing bearing
4. Packaging Details for large diameter slewing bearing with pinion
1). Bearing surface is covered with the anti-rust oil first; And then wrapped with the plastic film;
2). And then packed with Kraft paper and professional belts;
3). At last, with wooden box totally at the outer packing to invoid the rust or the moist;
4). We can depend on the customers demand to be packed;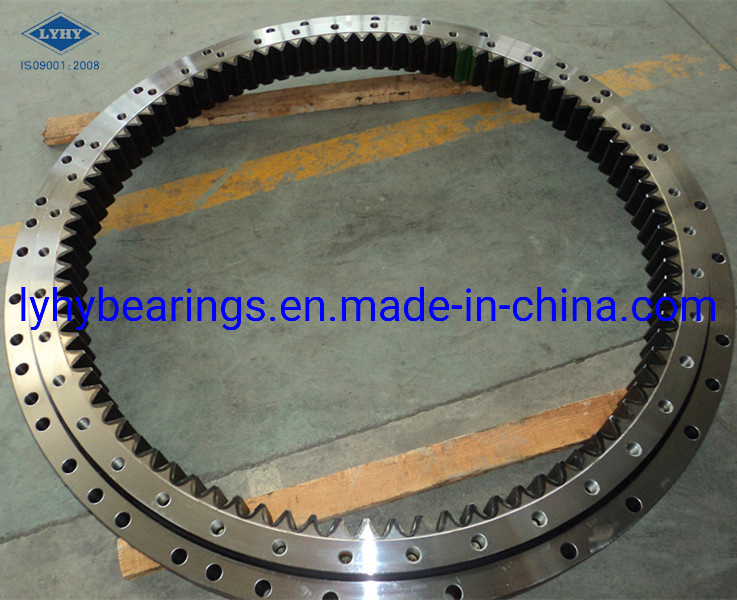 LYHY bearings are specializing in excavator bearings, and can provide bearings for world famous excavators.
(Komatsu)
PC40-10, PW60-5, PC60-5, PC60-6, PC60-7, PC90-6, PC100-5, PC120-5, PC120-6, PC130-7, PC150-7, PC200-1, PC200-2, PC200-3, PC200-5, PC200-6, PC200-7, PC200-8, PC220-3, PC220-5, PC220-7, PC220-8, PC228, PC240-8, PC300-2, PC300-3, PC300-5, PC300-6, PC350-6, PC360-7, PC400-1, PC400-3, PC400-5, PC400-6, PC450-5, PC450-6, PC450-7, PC650
(Hitachi)
EX60-1, EX60-2, EX60-3, EX60-4, EX90, EX100-5, EX120-1, EX120-2, EX120-3, EX120-5, EX150, EX160WD, EX200-1, EX200-2, EX200-3, EX200-5, ZX200, ZX210, ZX225U, ZX230, ZX240, ZX270, EX300-1, EX300-2, EX300-3, EX300-5, ZX330, ZX350-5, ZX450H
(Caterpillar)
CAT110, CAT215, CAT215B, CAT225, CAT280, CAT200B, CAT305, CAT320B, CAT320C, CAT320D, CAT320L, CAT325, CAT325B, CAT325C, CAT330C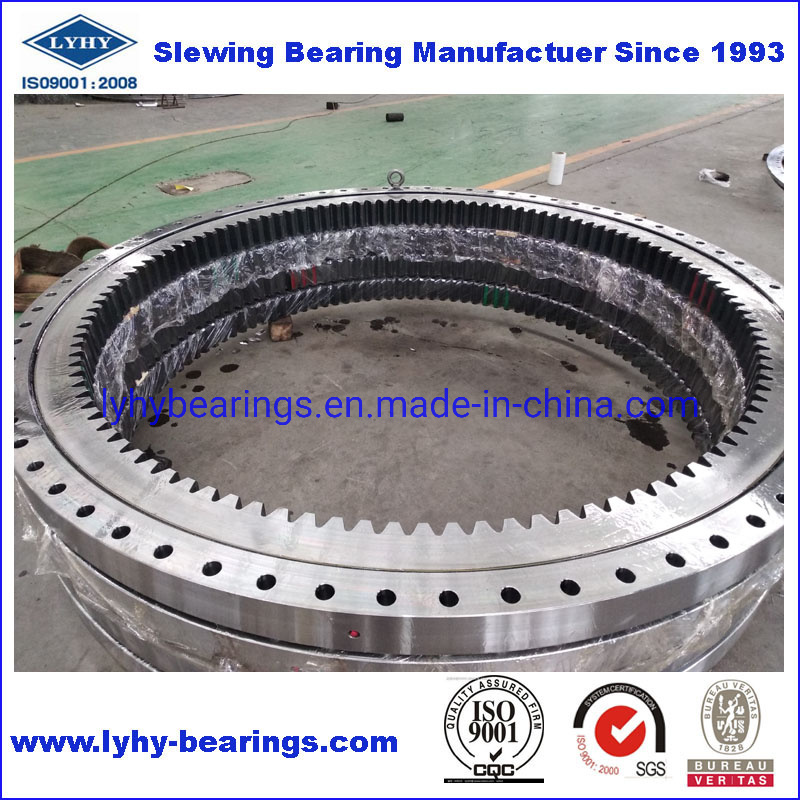 (Kobelco)
SK07-1 SK07-1-N2(thick) SK03 SK907B SK120-5 SK200-2 SK200-5
SK07-2 SK07-N2(thin) SK09 SK100 SK200-1 SK200-3 SK200-6
(Kato)
HD250-7 HD450-7 HD100 HD700-5 HD770SE HD770-2 HD820-1
HD450-5 HD516 HD700-2 HD700-7 HD770-1 HD800-7 HD900-7
(Sumitomo)
SH120A3 SH200A2 SH200C3 SH280 SH340 SH430
SH200A1 SH200A3 SH260 SH300 SH350 SH40T
(Doosan)
DH55 DH220-3 DH10L DH290 DH320
DH200-3 DH220-5 DH280 DH300-5 DH330-3
(Hyundai)
R55-7, R60-5, R60-7, R110-7, R130-5, R130-7, R170-5, R200-5, R200-7, R210-3, R215-7, R220-5, R225-7, R260LC-7, R290, R305LC-7, R300, R360
(Samsung)
PS132, PS210, MX08-2, PS292, SE210-LC2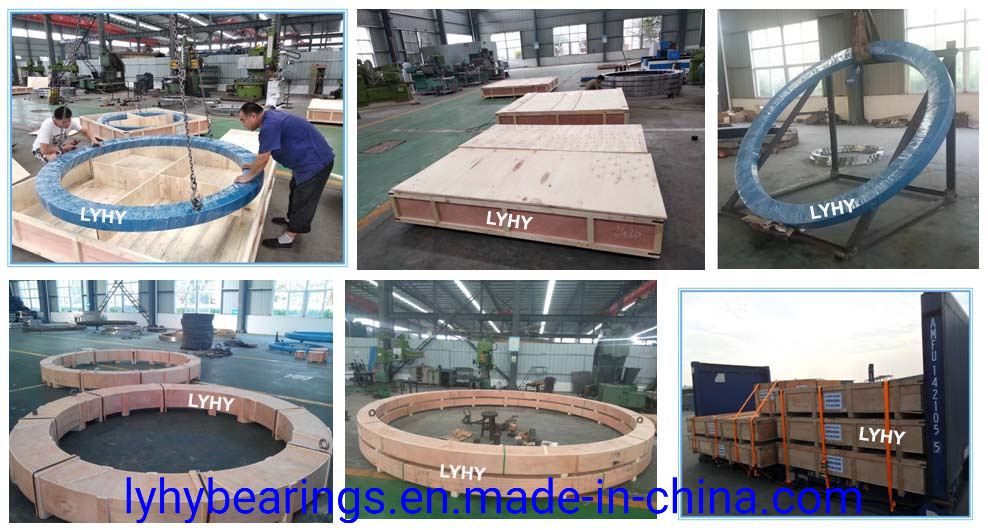 | | | | | | | | | |
| --- | --- | --- | --- | --- | --- | --- | --- | --- |
| Excavator Type | OD | ID | H | H1 | H2 | Holes for outer ring | holes for inner ring | teeth No. |
| PC400-5 | 1550 | 1238 | 152 | 108 | 140 | 35-φ26 | 40-M24 | 84 |
| PC400-6 | 1563 | 1240 | 152 | 108 | 140 | 35-φ29 | 40-M24 | 84 |
| PC450 | 1563 | 1240 | 152 | 108 | 140 | 35-φ29 | 40-M24 | 84 |
| EX60-1 | 781 | 554 | 78 | 60 | 65 | 24-φ18 | 24-φ18 | 71 |
| EX60-2 | 781 | 554 | 78 | 60 | 65 | 24-φ18 | 24-φ18 | 71 |
| EX60-3 | 781 | 554 | 78 | 60 | 65 | 24-φ18 | 24-φ18 | 71 |
| EX60-4 | 774 | 554 | 78 | 60 | 65 | 24-φ18 | 24-φ18 | 71 |
| EX90 | 993 | 764 | 80 | 62 | 68 | 28-φ18 | 36-φ18 | 78 |
| EX100-1 | 1195 | 962 | 86 | 72 | 70 | 36-φ19 | 36-φ17 | 98 |
| EX120-1 | 1195 | 962 | 86 | 72 | 70 | 36-φ19 | 36-φ17 | 98 |
| EX120-2 | 1092 | 862 | 84 | 68 | 70 | 36-φ20 | 36-φ18 | 88 |
| EX120-3 | 1092 | 862 | 84 | 68 | 70 | 36-φ20 | 36-φ18 | 88 |
| EX120-5 | 1092 | 862 | 84 | 68 | 70 | 36-φ20 | 36-φ18 | 88 |
| ZX120 | 1090 | 860 | 86 | 68 | 70 | 30-φ20 | 36-φ18 | 88 |
| EX200-1 | 1312 | 1084 | 106 | 72 | 95 | 36-φ22 | 36-M20 | 92 |
| EX200-2 | 1312 | 1084 | 106 | 72 | 95 | 36-φ22 | 36-M20 | 92 |
| EX200-3 | 1312 | 1084 | 106 | 72 | 95 | 36-φ22 | 36-M20 | 92 |
| EX200-5 | 1312 | 1084 | 106 | 72 | 95 | 36-φ22 | 36-M20 | 92 |
| EX210-5 | 1312 | 1084 | 106 | 72 | 95 | 36-φ22 | 36-M20 | 92 |
| ZX200 | 1312 | 1081 | 106 | 72 | 95 | 32-φ21 | 36-M20*1.5 | 92 |
| ZX230 | 1420 | 1138 | 108 | 84 | 98 | 36-φ24 | 36-M22 | 83 |
| ZX240 | 1420 | 1138 | 108 | 84 | 98 | 36-φ24 | 36-M22 | 83 |
| EX300-1 | 1530 | 1234 | 117 | 91 | 105 | 32-φ25 | 36-M24*2 | 90 |
| EX300-2 | 1530 | 1249 | 115 | 83 | 105 | 32-φ25 | 36-M24*2-7H | 91 |
| EX300-3 | 1530 | 1249 | 115 | 83 | 105 | 32-φ25 | 36-M24*2-7H | 91 |
| SK07-1 | 1300 | 1085 | 95 | 70 | 85 | 32-φ22 | 36-M20 | 110 |
| SK07-2 | 1312 | 1083 | 105 | 78 | 95 | 32-φ22 | 36-M20 | 110 |
| SK07-1-N2() | 1300 | 1085 | 95 | 70 | 85 | 32-φ22 | 36-M20 | 110 |
| SK07-N2() | 1312 | 1083 | 105 | 78 | 95 | 32-φ22 | 36-M20*1.5 | 110 |
| SK03 | 810 | 584 | 84 | 67 | 67 | 30-φ17.5 | 30-φ17.5 | 75 |
| Excavator Type | OD | ID | H | H1 | H2 | Holes for outer ring | holes for inner ring | teeth No. |
| SK09 | 1163 | 970 | 81 | 57 | 71 | 35-φ17 | 36-M16 | 123 |
| SK907B | 1312 | 1083 | 105 | 78 | 95 | 32-φ22 | 36-M20*1.5 | 110 |
| SK100 | 1093 | 880 | 85 | 60 | 75 | 28-φ17 | 36-M16 | 89 |
| SK120-5 | 1093 | 880 | 85 | 60 | 75 | 28-φ17 | 36-M16 | 89 |
| SK200-1 | 1311 | 1082 | 105 | 78 | 95 | 33-φ22 | 36-M20*1.5 | 110 |
| SK200-2 | 1311 | 1082 | 105 | 78 | 95 | 33-φ22 | 36-M20*1.5 | 110 |
| SK200-3 | 1311 | 1082 | 105 | 78 | 95 | 33-φ22 | 36-M20*1.5 | 110 |
| SK200-5 | 1311 | 1082 | 105 | 78 | 95 | 33-φ22 | 36-M20*1.5 | 110 |
| SK200-6 | 1312 | 1083 | 105 | 78 | 95 | 33-φ22 | 36-M20*1.5 | 110 |
| E200B | 1308 | 1082 | 100 | 85 | 87 | 33-M20 | 36-M20 | 110 |
| CAT215 | 1178 | 963 | 90 | 78 | 73 | 36-φ18 | 36-M16 | 94 |
| CAT215B | 1171 | 966 | 90 | 78 | 73 | 36-φ18.5 | 36-5/8-11UNC-2B | 94 |
| CAT320B | 1316 | 1082 | 100 | 85 | 87 | 33-φ22 | 36-M20 | 110 |
| CAT320C | 1316 | 1081 | 105 | 73 | 93 | 42-φ22 | 40-M20 | 110 |
| CAT320L | 1318 | 1082 | 105 | 85 | 92 | 38-φ22 | 36-M20 | 110 |
| CAT325 | 1495 | 1164 | 110 | 93 | 95 | 32-φ26 | 38-M24 | 85 |
| CAT325C | 1495 | 1164 | 110 | 93 | 95 | 38-φ26 | 40-M24 | 85 |
| HD250-7 | 810 | 584 | 84 | 67 | 67 | 30-φ17.5 | 30-φ17.5 | 75 |
| HD450-5 | 1111 | 873 | 75 | 65 | 62 | 30-φ18 | 30-φ18 | 89 |
| HD450-7 | 1111 | 873 | 75 | 65 | 62 | 30-φ18 | 30-φ18 | 89 |
| HD516 | 1111 | 873 | 75 | 65 | 62 | 30-φ18 | 30-φ18 | 89 |
| HD100 | 1111 | 873 | 75 | 65 | 62 | 30-φ18 | 30-φ18 | 89 |
| HD700-2 | 1315 | 1084 | 110 | 90 | 90 | 36-M20-7H | 36-M20-7H | 92 |
| HD700-5 | 1300 | 1080 | 110 | 89 | 94 | 35-M20 | 36-M20 | 92 |
| HD700-7 | 1320 | 1080 | 95 | 70 | 85 | 36-Φ22 | 36-M20-7H | 92 |
| HD770SE | 1402 | 1132 | 97 | 80 | 80 | 36-φ21 | 36-M20 | 96 |
| HD770-1 | 1402 | 1132 | 97 | 80 | 80 | 36-φ21 | 36-M20 | 96 |
| HD770-2 | 1402 | 1132 | 97 | 80 | 80 | 36-φ22 | 36-M20 | 96 |
| HD800-7 | 1402 | 1132 | 97 | 80 | 80 | 36-φ22 | 36-M20 | 96 |
| HD820-1 | 1320 | 1080 | 95 | 70 | 85 | 36-φ22 | 36-M20-7H | 92 |
| HD900-7 | 1402 | 1132 | 97 | 80 | 80 | 28-φ18.5 | 36-M20 | 96 |